Wednesday 31 March 2021
Hello MG friends,
I had a really lovely trip up to Sydney last week. Thanks for making it so pleasant and I'm sorry I missed a couple of people: next time. It's always worth just checking in with me if you have short notice availability that doesn't match my scheduled visits. I do come to Sydney at other times and I will work around MG things where I can, no problem. This has worked well for people who visit from interstate so it's fine by me for loyal locals to do that too xx
The April visit dates are Wednesday 28 April to Saturday 1 May.
Update on the apples: I thought this was a pretty impressive weight for an apple. This one is from one of the roadside trees near the creek.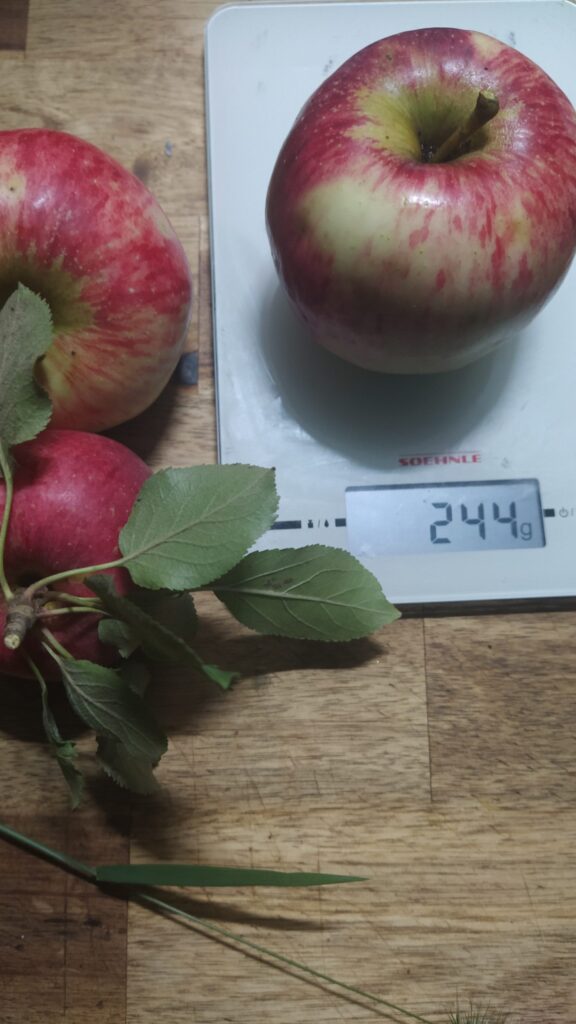 The wild trees had no fruit at all during the four years of drought. This is the first season with fruit since the drought and the crop has been wonderful. It's such a dilemma for me because I'd love to do something creative with the apples that are loading down the trees but um, I don't really have what's needed.
I'm not really set up to make cider. No equipment, no space, no knowledge, no experience. Nothing insurmountable though lol. The real problem I think is the mindset. I've never been very domestic. I mean, I've never made a cake, am not into baking, never made jam, somewhat ordinary when it comes to sewing (understatement). I do love cooking though, and food 🙂 and lovely things to drink. But I'm not into "homesteading". This is a new word for me I've learnt from YouTube this year. It's an American usage to describe the escape to farm life – where people have chooks, grow vegetables, make preservatives and so on. It's not me. I may have escaped to the country but it is for the _bush_ and the wildness, not so that I can plant a European garden, let alone one requiring the amount of work that a vegetable garden demands. That said, things grow here remarkably well and even despite my own indifference I have a flourishing kitchen garden. It's a bit like the indoor plants I had at Potts Point. I'd never taken any interest and then somehow I ended up with a jungle of indoor plants all thriving in the sunny airy environment. When I left Potts Point many colleagues and friends came and adopted my plants, many of whom had names, and I get updates on how they are doing (like the proverbial auntie).
So, back to the apples dilemma.
I have been busy doing some landscaping to improve water retention on the little bush block. I don't know if any of you might have heard of swales? Basically it's a ditch that follows the contour line of a slope. It's big in the permaculture tradition where they grow edible things on the swale itself. I have built a few of these in a terrace series (about 20 metres long, half a metre wide, a metre deep), and so far they have been very effective. They fill with water and drain slowly, keeping the surrounding slope hydrated.
I have planted the downhill side of the swales with native plants. I'm confident the wild grasses will just move back in by themselves. Whenever I've got through chipping some of the branches and trees that came down in the December cyclone storm***, I fill the swales with woodchips. (Woodchipping is not a wildly interesting task so this is taking me a while.) But I had the thought that the woodchips in the swale would compost much faster if there was some better organic material in the mix. Apples!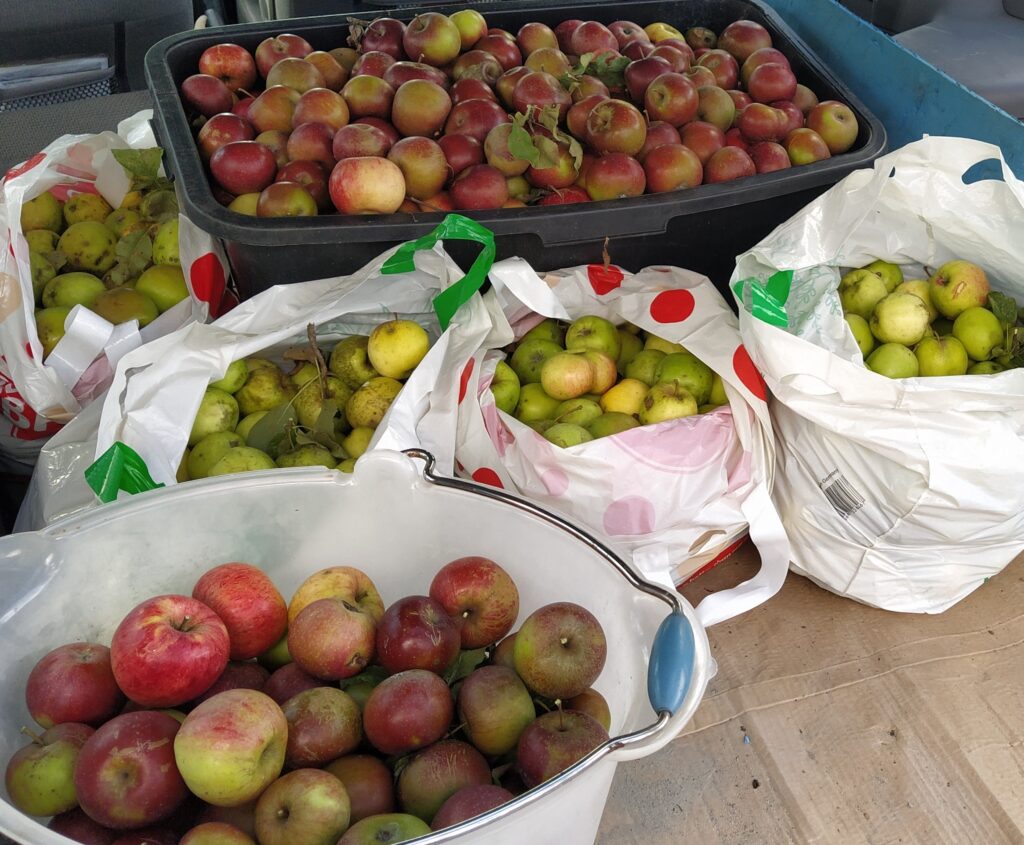 So I collected these apples earlier in the week, just from two somewhat weedy looking trees that were standing together and forming a little thicket by the side of the highway. I counted them as I put them in the bags (in lots of 100) and this haul is a bit more than 1000 apples. The smaller red ones tasted lovely, the green ones were a bit sour. I put them all in the swales and covered them with woodchips for maximum compost effect! (I lie, some of them I kept to give to Erik the excellent goat.)
xx MG
*** This storm was on 1 December last year, I'm not sure if I posted about it. It was quite spectacular, trees down, no power, flooded roads, we were cut off for a couple of days and lost many beloved trees. The mature trees here are survivors of a very big bushfire that came through in the 1960s. They tend to be regrown around burnt out trunks so their cores are weak, often termite infested. They are snappy gums anyway, so a fierce storm is inevitably going to take them down. The locals were having a facebook discussion afterward of the very typical "I remember the storm 12 years ago (bla bla)" type of country discussion, and one very senior woman said, "well I've lived here 40 years and I've never seen anything like, even the rooster nearly laid an egg". Legit cyclonic storm.