Letters from America
These letters are my glamorous aunt's posts on her adventures and her life and times as a
♦ mature Sydney escort ♦
Sunday 10 December 2017
It's the bane of the oldest profession to be depicted in the media and arts in a way which is misleading, sensationalised and frequently harmful. I haven't ever seen a depiction of sex work any better than in the short Australian film Black and White and Sex,  which was released a few years ago.  Here is a link to a short review on an amateur blog.
http://www.sassisamblog.com/2012/03/22/film-review-the-provocative-thought-provoking-black-and-white-and-sex-movie/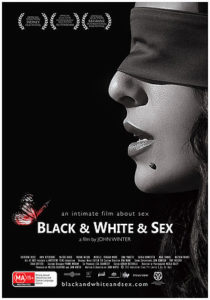 The official website with the distributor's contact details is included here as well,  in case you wanted to buy a DVD copy, which I would strongly recommend:
https://www.blackandwhiteandsex.com/
The short film raises a wide range of issues in an undogmatic way.  I dislike art being used didactically.  This film deals with genuine "social" issues but from intimate points of view, and it doesn't "solve" any problem or preach any particular thing.  The closing episode addresses the mystery question whether the main character Angie, who is played by eight different actress personas (sounds complex but it worked well), actually experiences orgasm in the course of her work – does she "really" enjoy it.
Which brings me to another interesting thing.  A number of escorts keep blogs and internet diaries.  From my observation most of these deal with their personal experience of being an escort, feelings about work and clients and views on the industry.  The diaries differ from the Letters from America because the Letters are generally less reflective in that personal way, and are usually more about music,  landscape, trees and small adventures.
Anyway, long and short of this is that the subject of an escort's orgasm is very well addressed in a recent post from the escort blog of Asha Grace.  Asha Grace is an experienced escort and lovely soul based in Brisbane.   She says some wise thing that some of you might be interested in.  The post is called Give and Take, here's the link:
http://escortashagrace.com/blog/give-and-take
Well, it is a beautiful Sunday morning so I am signing out now for the next adventure.  I am looking forward to a great week and hope you are too – notwithstanding it is the lead up to Christmas and the Sydney traffic is mental.
Look out for yourselves and take care not to fall off your bikes, figuratively – and literally.
Yours ever
MG xx
your mysterious glamorous aunt