Thursday 22 April 2021 – Night skies
The starry skies are so lovely going into the cold weather, and it is getting quite chilly here already. I can see the night sky from my bed through the large sliding glass doors at the front of my place. So waking up in the night is a lovely thing. Sometimes I get up, which I did last Wednesday just before 5.30am. I was admiring the stars when I saw a remarkable thing: a series of bright objects streaming to the north, one after the other at steady intervals, very low in the pre dawn sky. There were dozens of them.

I did some investigations later in the day and discovered that it was one of the Starlink commercial satellite groups and that it was very likely I saw a whole series, about 60 satellites. They all get launched together at a fairly low level for satellites and this is why they string out in a visible series as they orbit. I've included a link to a YouTube recording of a sighting of one of the satellite trains. I also learned there is an app which gives information about upcoming times and places from which you can get a sighting.
https://www.youtube.com/watch?v=pgysWWwESfU
The funny thing is I've already been looking at Starlink for my own internet service, when Starlink comes online in the future. I don't have NBN or a Telstra cable service and I'm not in a remote zone that qualifies for SkyMuster. The marketing is perfect: now Starlink seems like a thing I already "know" (kind of).

Unfortunately the phone camera doesn't run to taking to photos of stars. But last week was lovely for the new moon in the early evening. This is last Wednesday 14 April's new moon: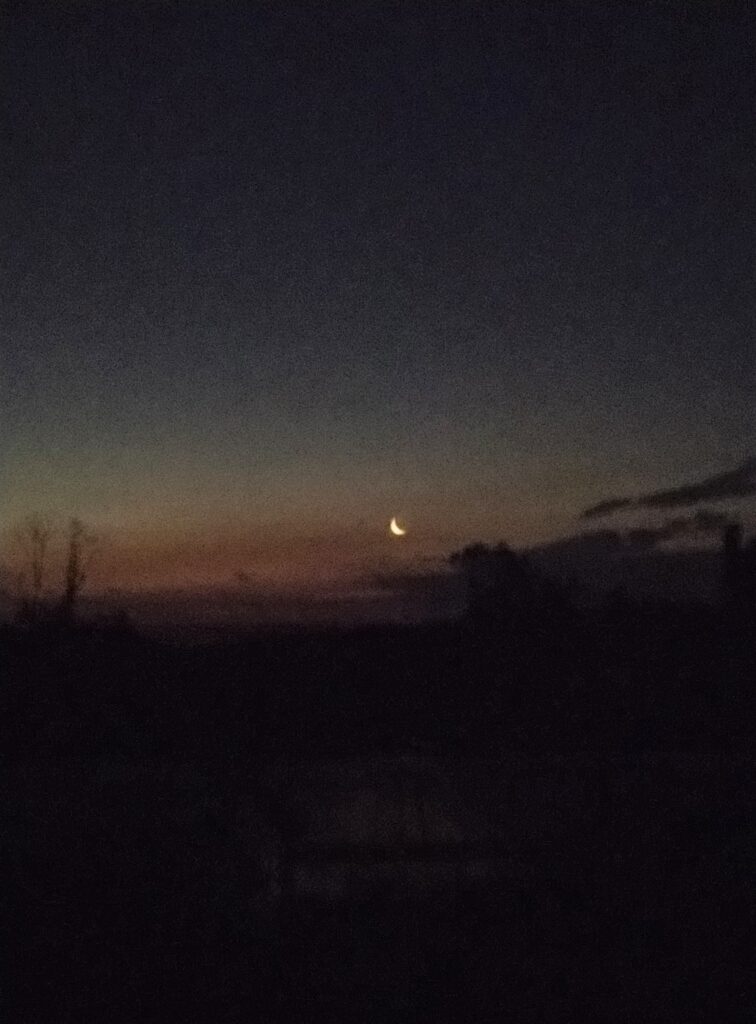 And this is last Friday April 16th's new moon (you might need specs to see it though):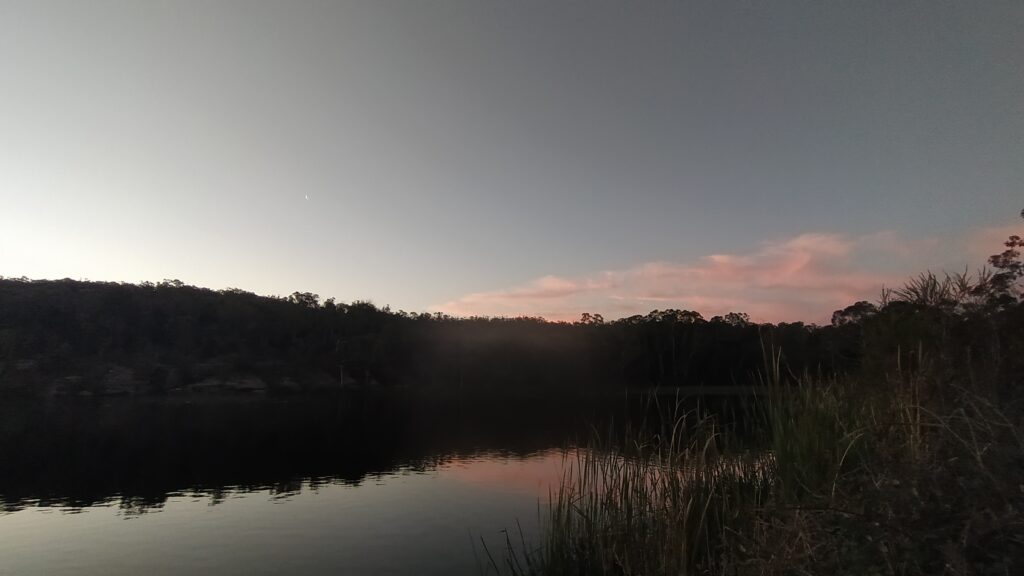 On the day in between these photos I was in Sydney to see a different night sky: a memorial service that included fireworks on the harbour. It was for a friend of mine who had died at home in Queensland with her family last year. She was about my age and the cause of death was cancer. It was a very fitting send off. She was an outgoing, free spirit. She loved sex and parties. After Hong Kong where she'd worked for years, Sydney was her great love. She had always lived round Waverton and McMahon's Point. Her brother organised the fireworks and service for her many friends here. All her family came down from Queensland and we gathered at Balls Head Reserve after some drinks at the her local.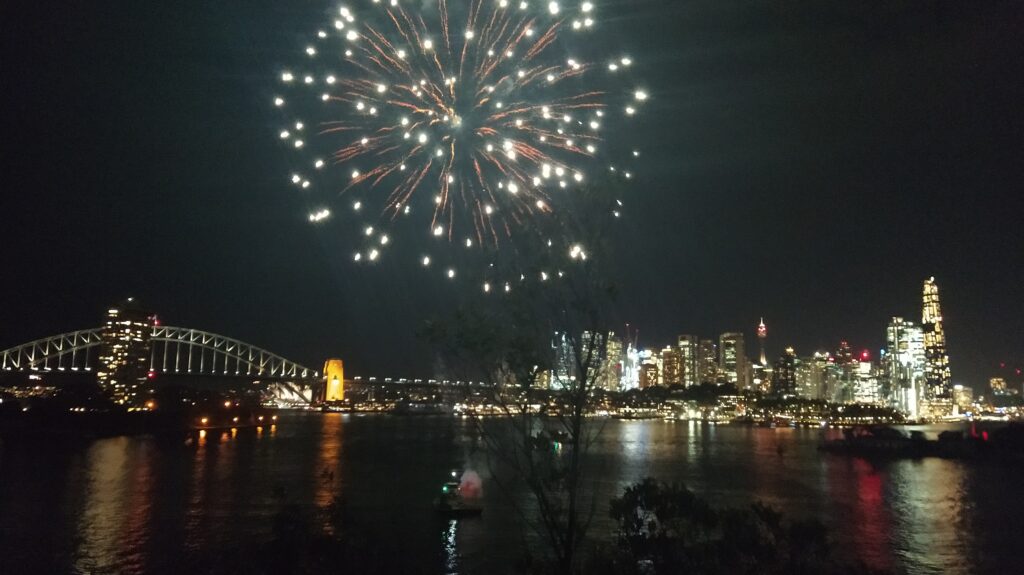 It was very touching. I wasn't expecting anything really. Because I'd seen so many fireworks when I lived in the Cross, they were almost a weekly event, I had well and truly got fireworks fatigue. But it was so fitting: all her Chinese Australian friends there – some of whom are my very good friends, her years in Hong Kong and as many again in Sydney, the fireworks, her exuberance.
Afterward I spent a long time thinking about why I found the whole thing so moving. I thought it couldn't just be the fireworks. Then I remembered that for the whole half hour we had all waited in the virtual darkness for the show to start, there had been a shadowy presence moving slowly in the water and we actually watched this for longer than we watched the fireworks display.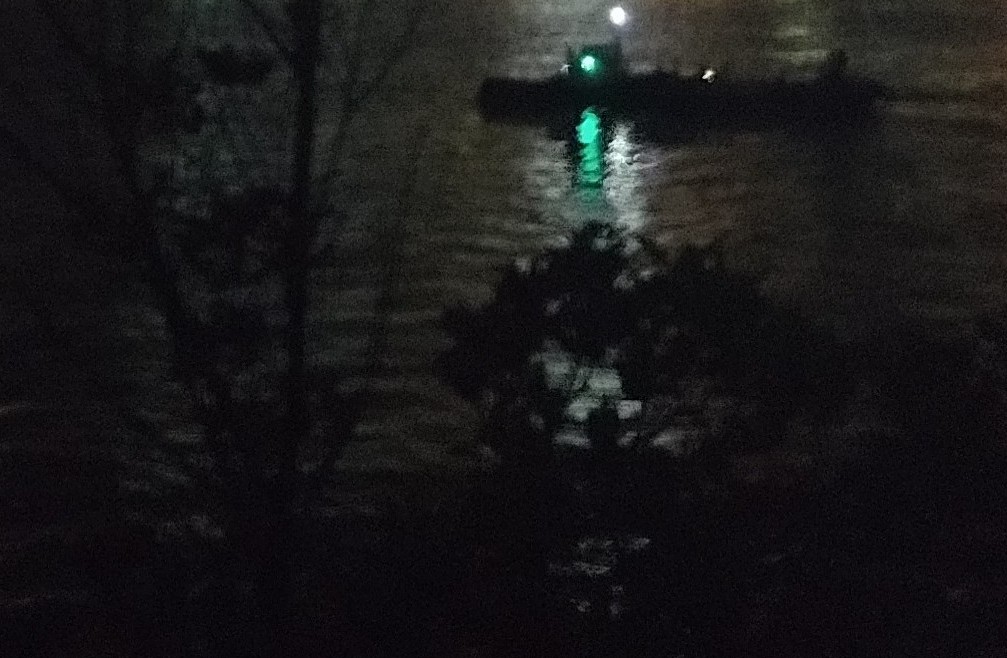 This is not a great photo (understatement). Just a cropped version of a bigger image. It's the barge from which the fireworks were set off. It's not a great picture because at the time I wasn't thinking to photograph the barge, just the fireworks. On reflection I thought the barge, with her ashes on board, was like the ferry on the Styx. A kind of archetype across cultures, the funeral barge. It moved very slowly and solemnly getting itself into position. I think this period of quiet before the display, had quite an impact but it was only later I became aware of that.
The shape of the barge, its' somewhat foreboding silhouette against the night, reminded me of the mysterious paintings of the American painter Albert Pinkham Ryder, which I've loved since I was at high school when I first saw prints.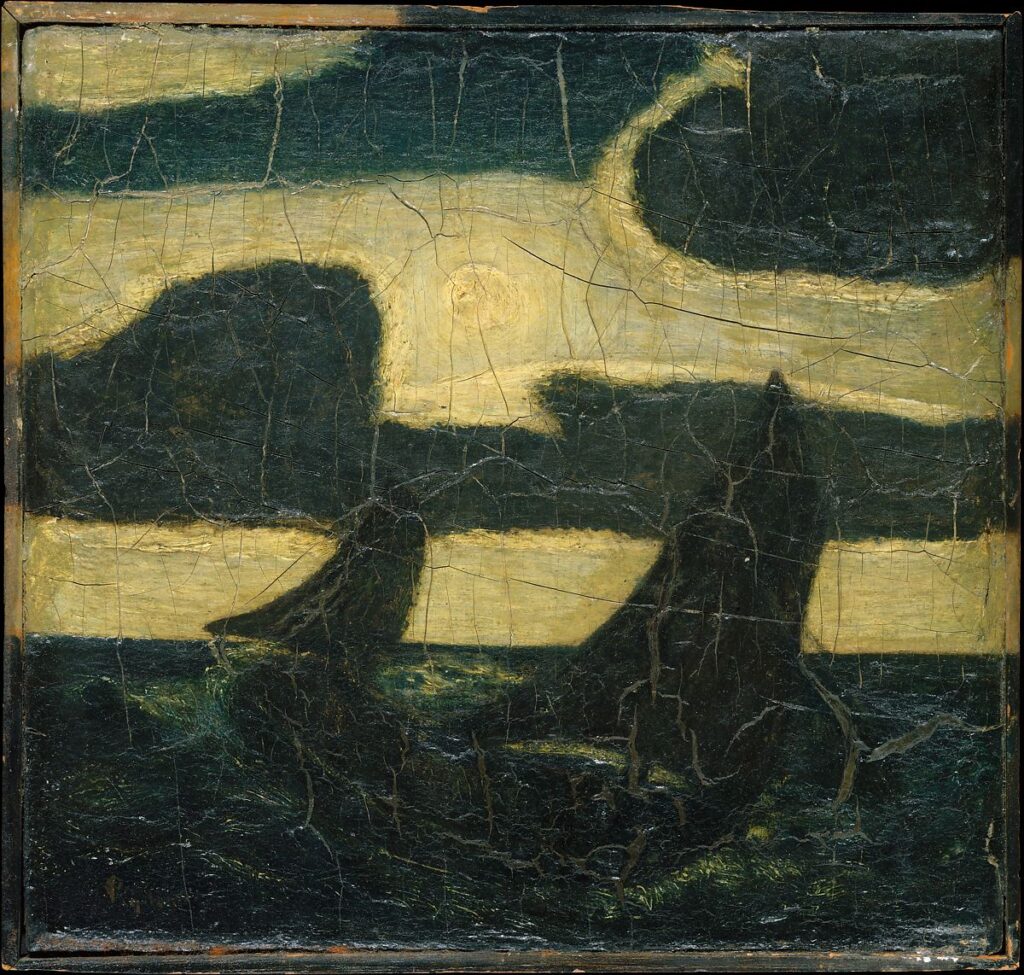 xx MG