Letters from America

Monday 7 August 2017
I am going to a festival at the end of September and camping in the bush (yes! your glamorous aunt does camping but only for a very good cause). I want to create something special for the event, preferably something I can share.
I was inspired ages ago by a photo of a beautiful piece of clothing created with optical fibre. This is the inspiring photo: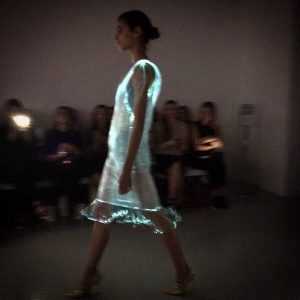 It's lovely isn't it? I wanted to make something like this for the festival.
I may have left it a bit late for this year's festival, but I will see what I can do all the same. Progress reports will be posted (that's if there is any progress lol).
I really wanted to make a piece of clothing that I could easily share – like a cape which might be made to look like a set of wings. May be too ambitious. With the constraints of time and knowledge I thought perhaps I could get an el cheapo version of the fibre optic creation from ebay or etsy, wear it for this year's festival, and then reverse engineer it to discover how I can make creations myself for next year. Once I have that practical knowledge I can make the clothing to share that I originally wanted to do, and slope off to the next festival laden with treasure.
So these are the el cheapo versions I have been looking at online. Any preferences? Recommendations?
MG xx
Looking ahead to a luminous experience over the October long weekend – in the forest – with a few thousand hippies
but hippies who can actually do things – not hippies who just lie around smoking dope.