Letters from America
These letters are my glamorous aunt's posts on her adventures and her life and times as a
♦ mature Sydney escort ♦
Friday 27 October 2017
So my experiences in recent travels to Canberra were a little mixed and it's worth my while taking time out to say something on this.  I had a new client in Canberra very annoyed that I had to postpone our meeting for health reasons.  His response was to tell me he would blacken my name on whatever escort related forum he was involved in.  This, despite my having offered to massively discount my fee for the next meeting to make up for the inconvenience of the postponement.  (This offer was accepted graciously by other postponed clients I might say.)  So the point of my comments here is to tell you that I can only do this work if I am in the best health.  I have had a lot of issues with health and well being over the last period of time.  So it has not always been easy to balance work and health.  This work is not like a lot of other work, it is much more personal and much more demanding. Fortunately the people I see are OK with this, and I appreciate that.   If you can't see this then I am not the right person for you.
Back to less taxing matters:  I did a short excursion to another beautiful beach on the eastern suburbs shore line.  This time to  Parsley Bay in Vaucluse.  There are old family photos showing I was brought here as an infant but I have no recollection.  The only thing I recall as a child, is the netted harbour pool at Redleaf Woollahra, a few inlets over from Parsley Bay.  It was a very scary thing to be taken, as a very small person,  to the inky deep end of the harbour pool netted off from the _sharks_ – one cannot quite forget the horror of it!
Here is Parsley Bay, with its footbridge, looking dazzling when I visited: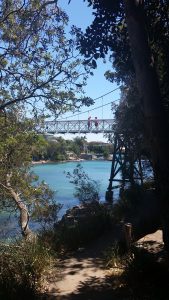 And this image goes some way to showing that lovely emerald green the harbour goes.  The shadows have a violet touch when they fall on the green: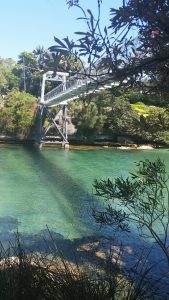 And here was also a very senior looking water dragon basking on the sandstone: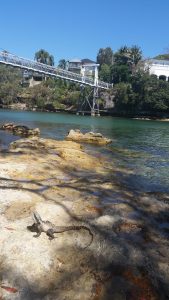 It's a lovely series of sunny photos to post – especially as today is so grey and rainy by contrast.
yours ever,
MG xx