Letters from America

Sunday 25 March 2018
Earlier this month I managed to get to the NSW Art Gallery to see an exhibition of the photography of Robert Mapplethorpe. Here I am on the stairs posing with an enlarged self portrait of the artist himself.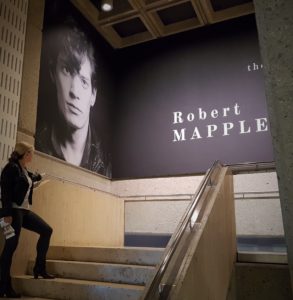 The challenging thing in the Mapplethorpe show is the kinky erotic photography – predominantly homoerotic BDSM style scenes – some of them very graphic.
There is a common theme in all the work – erotica, portraits and kink alike – and that is they have a "sculptural" feel to them. It's a very classical form and composition and the subjects are posed and still. These are beautiful and accomplished images.
Here is one of the sculptural portaits in a classical style: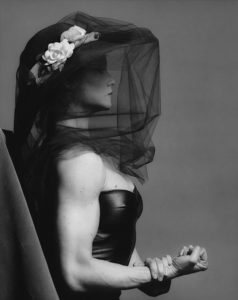 Mapplethorpe makes some images of kinky "domestic" scenes which are droll. It's incongruent to see a tough leather clad master slave couple in a Victorian pose in a 1960s lounge room.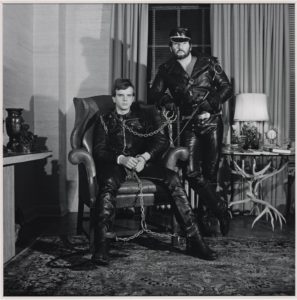 And on the other side of the earth right now, there is an exhibition of photography showing at the Museum of Sex in New York. There is something of the Mapplethorpe dilemma in this work too. The exhibition is of the work of Japanese photographer Noboyushi Araki.
Many of Araki's kinky erotic images are brutally challenging. It's hard to freely enjoy the brilliant aesthetic of Araki's work because of the troubling depiction of feminine bondage and enslavement that features in so much of it. And it's troubling no matter what complex quality of consenting relationship the photographic models might have had with the great man.
Unlike Mapplethorpe there is far more candid imagery, action shots, and location work all of which make for a more dynamic subject matter – there might be stillness in the work but it's only for a moment. The erotic world of Aaraki is Dionysian.
But like Mapplethorpe there is also great humour in some of Araki's erotic work. Perhaps I should be asking a less obvious question: how did comic pornographic art get itself into the gallery…
Here are some Araki images, the one on the left I have posted before and it's of the Yakuza crouched like a dragon. The one on the right is a the lighter relief version of "the reptile within", the lizard having been reduced to little plastic Godzilla figures in the corner.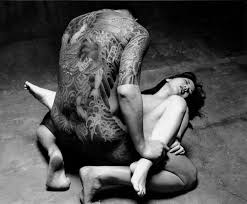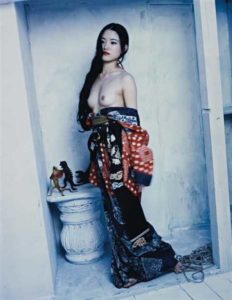 MG xx