Letters from America
These letters are my glamorous aunt's posts on her adventures and her life and times as a
♦ mature Sydney escort ♦
Wednesday 1 November 2017
Earlier this year I decided to try an experiment on my worms, whose collective nickname is the Miriams (named after a favourite scientist Miriam Rothschild whose ground breaking work related to fleas, and later to butterflies).
The Miriams live in a black plastic two tray shelter (aptly branded the Worm Factory) where they compost my kitchen scraps.  I also give them things they are not reported to process but which I have found they do, namely significant quantities of orange peel, paper (suitably wet), coffee grounds, and odd pieces of cotton  such as old shoe laces.  I also found they ate most (but not all) of an old yoga mat which was made of woven jute on one side and later rubber on the other.
As it happened one of my items of latex clothing, a halter neck dress, perished.  I had not worn it in a while and for one reason or another it has just wasted in key places and could not be saved.  This kind of material fatigue is not uncommon especially if the latex dries out or has not been effectively cleaned.  And latex also simply expires from use over time.  It is an organic thing.
So I decided to experiment with the Miriams by including the latex in their feed, to see whether they would set about decomposing it.
I can report that at last examination the latex has not been touched at all.  Instead it was serving quite well as an impermeable layer in the Worm Factory trapping water and keep the whole thing moist. Here is a photo of that experiment demonstrating the outcome: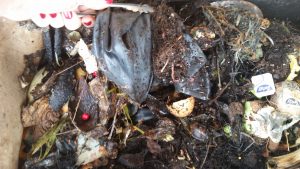 I meant to say this latex dress belonged to another life of mine which some of you are aware of.  And that is, I worked for some time, before I started escorting, as a professional Mistress in a BDSM dungeon.
Here is an old photo of me in the latex dress in one of the rooms at the dungeon, my apologies for the cut off head.
MG xx