Letters from America

Monday 19 June 2017
We haven't done any flowering trees for a while. So this is my seasonal offering.
People often complain about flowering trees, that they are beautiful but they make a terrible mess (dropping flowers on the lawn, dropping flowers on the car, dropping flowers on the pavement, and so on). So here is another high achiever on that front, the Gordonia, which looks a little bit like a camellia. It flowers in autumn and winter and it loves the rain. Its shapely small trunk and branches go very dark when it is wet which accentuates its profile and compact size. I like this charming small tree a lot, so you might watch out for it in your travels.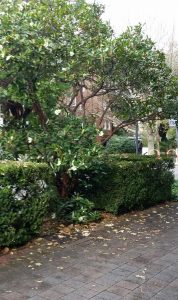 This Gordonia is a small tree growing on Ocean Street, Woollahra near the Goethe Institute. It hasn't been kept well with regular pruning in recent years, and has lost some of its shape, but it's still a long time favourite.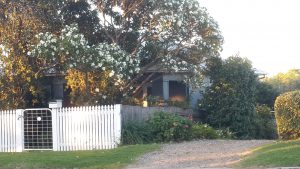 This one is a larger spreading tree in the garden of a cottage at Milton on the South Coast, where it rains just as much as the Gordonia would like.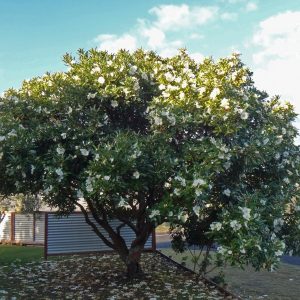 This is a perfectly shaped mature tree and you can see there what an excellent result we are getting in making a mess by dropping flowers on the lawn.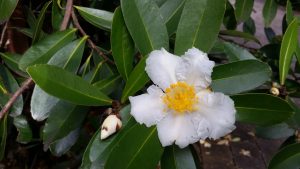 This is a close up of the flower. It is completely open and has only five petals.
It is a very simple flower, unlike its more baroque cousin the camellia.
I think we are fortunate to have so many beautiful flowering trees. Once you know what these trees are its remarkable how they suddenly seem to appear. It's as though you now have the vocabulary to say something that couldn't have been said before, about something you could not previously see. Soon you find yourself noticing the most handsome trees on your way to work, at the railway station, on the highway you take for annual holidays. And you look forward to seeing them whenever you pass by that way.
Over and out
MG xx
Inveterate tree hugger and tireless supporter of guerilla gardening, flowers dropping on the lawn wherever they like, and so on and so forth