Services
Massage
I have done some training in Swedish massage which is massage for relaxation not for remedial purposes.   I  have also explored some of the  popular eastern traditions that have their own systems for integrated physiological and spiritual well being, including the regulation, by touch or movement, of specifically sexual energy.     So while I am on the optimistic side of sceptical when it comes to untested claims about health benefits, I also have a lot of respect for "other ways" of doing things and other ways of life.  I have no doubt that our current life habits lock down and deny powerful creative sexual energy.  The massage I do expresses my heartfelt desire to give back a quality of sensual experience you generally cannot experience otherwise.  It's a massage with an ecstatic rather than happy ending.  I really love doing massage and think this is a great session.
Erotic
The erotic session is the passionate girlfriend style of experience.  It's a warm session of sex with sensual body contact, kissing as much you like and oral for you and for me if you wish.  I am non-judgemental and adventurous.  So we can do whatever turns you on within the scope of the erotic session, so as to give you an intimate, fun and sexually satisfying experience.  If there is anything you would specially like, please ask.
I am also happy to provide a range of less conventional services including domination and other scenarios, foot fetish and so on.
Dinner
This is a very pleasant way to spend time together.  The evening's dining out can be preceded by erotic pleasures if you wish and followed by more of the same later.  Anticipation is part of the pleasure of the occasion.  I am essentially very easy to please so whatever you decide to do for dinner and our evening together, I will always be delighted.
You can have dinner at my place too, which makes for a very private and relaxed affair.  No need to contend with mediocre service or potentially awkward moments with work colleagues/friends of the family.  I can make a tasty french onion soup, an eye fillet with soft red wine, and affogato for afters.   Don't ask me to bake anything though – I am a complete fail when it comes to cakes, bread and the like.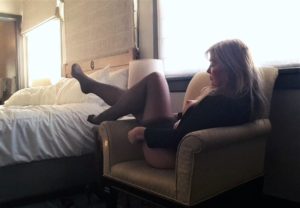 Save