Services
Companionship
I am an exceptional version of the grown up girl next door – well spoken and well mannered.  But I am also a sophisticated soul – highly educated and well travelled.   And, I confess, not really like any girl next door you ever met because I am just way too wicked and sensual.    Conversation is easy with me and as light and amusing you might like, or as reflective and personal as the moment requires.  I am very discreet and observe strict confidentiality for all clients – high profile, married, anywhere in between.  
Dinner
This is a very pleasant way to spend time together.  The evening's dining out can be preceded by erotic pleasures if you wish and followed by more of the same later.  Anticipation is very much part of the pleasure of the occasion.  I love good wine, food and conversation.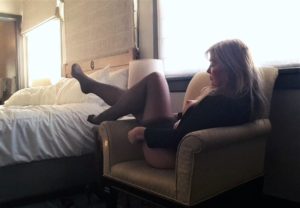 Save
Erotic
This is a warm session of sex with sensual body contact, kissing as much you like and oral for you and for me if you wish.  I am non-judgmental and adventurous.  So we can do whatever turns you on within the scope of the session, so as to give you an intimate, fun and sexually satisfying experience.  If there is anything you would specially like, you are very welcome to chat to me and we can work it out.
Massage
I have done training in Swedish massage, which is massage for relaxation not for remedial purposes.   I  have also explored some of the  popular eastern traditions that have their own systems for integrated physiological and spiritual well being, including the regulation, by touch or movement, of specifically sexual energy.     So while I am on the optimistic side of sceptical when it comes to untested claims about health benefits, I also have a lot of respect for "other ways" of doing things and other ways of life.  I have no doubt that our current life habits lock down and deny powerful creative sexual energy.  The massage I do expresses my heartfelt desire to give back a quality of sensual experience you generally cannot experience otherwise.  It's a massage with an ecstatic rather than happy ending.  I really love doing massage and think this is a great experience.
And more
I am also happy to provide a range of less conventional services including light domination and other scenes, foot fetish and so on. I worked for some time in the now closed Salon Kitty's, which was long established in Sydney as the best professional dungeon, so I have good training and experience with safety and consent. I am not simply a person who dresses up in black, buys some gear and calls themselves a Mistress. These are great sessions for those who don't find their needs generally catered for in the mainstream. I really enjoy these sessions and encourage people to be confiding about their desires.