Letters from America
These letters are my glamorous aunt's posts on her adventures and her life and times as a
♦ mature Sydney escort ♦
Sunday 14 January 2018
I am posting this letter a little behind schedule because I was very busy this weekend doing homework for an entry level scuba diving course.  The chance to do the course only emerged last week so I had very little time to complete all the online homework which turned out be to quite intense.  If I had a little more time to practise calcuating residual nitrogen "times" using the old tables (not the now standard dive planning software) I might have become a whiz!  As it was, I really only finished just in time for the first practical day –  from which I am now trying to recover.  My ears just would not equalise easily with underwater pressure changes once we got out of the pool and into the deeper ocean dives in the afternoon.  It meant the dives were slow to start.  So once I can get ahead with the threshhold physical challenges, there will be lots of new adventures to come with scuba diving.  I will post some photos of this episode once I have finished the course.
On the balcony we had a couple of developments in recent times.  The first is that I had to bring the composting worms – the Miriams, inside because the heatwave would have fried them.  They are happily set up in a corner of the lounge room, do not be alarmed there is absolutely no smell, they just carry on as before quietly eating my kitchen scraps.  The worm factory tutors I consulted a few years ago when I decided to get the worms told me that an established colony (such as mine is now) can be anywhere between 20 – 30,000 worms. Fancy that.  Very impressive number of urban wildlife units.
Also on the balcony we had the beginning of an experiment in potato farming.  I was recently given a special potato growing bag.  Here is a photo of the bag filled with earth to the first level, the illustrated instructions I am following, the potatos I want to use as the mother plants (once they develop little shoots from their "eyes"), together with a guest appearance from my pedicure and sarong.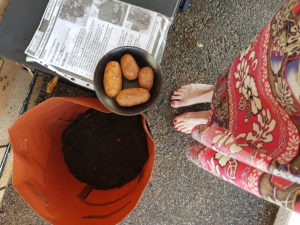 I was separately given some seeds (medicinal herbs and two types of sunflower) by a girlfriend. Having followed her directions carefully, I am seeing early signs of successful germination… The plants inside the apartment grow beautifully, perhaps the ones now germinating on the balcony will too.  Stand by for a progress report in the coming months.
Signing off  MGxx scuba goddess 101