Letters from America
These letters are my glamorous aunt's posts on her adventures and her life and times as a
♦ mature Sydney escort ♦
Saturday 17 June 2017
This is a little catch up letter to let me include on the website some of the material I posted in Twitter in the last couple of weeks, which I didn't put in here first.
I had a nice visit from a kookaburra in the last week.   I haven't seen one stop on the balcony in the entire four years I have lived here, so it was all pretty exciting.   The bird looked as though it might have been a juvenile because that puffed up chest and crouching down is a very baby bird sort of thing to do.
I also posted a random getting ready for work selfie which those of you who like black stockings and the rest might approve of.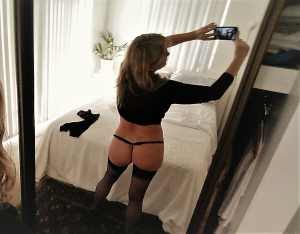 I have a couple of other nice things to post – it will have to be tomorrow though.
Signing out for a chilly calm Saturday
MG xx