Letters from America
These letters are my glamorous aunt's posts on her adventures and her life and times as a
♦ mature Sydney escort ♦
Tuesday 4 February 2020
This is just a few words on business housekeeping practicalities, scheduling, advertising and so on. It's way more words than usual and somewhat bla subject matter, but it has to be done.
I mentioned in a post at the end of 2018 that I had a stalker during the year who had really taken the shine off my happy escort life and so I would be doing more outside escort work. Well it is true, all through 2019 I have been more focussed on other things, and if I turned my mind to it (which I tried not to), feeling very flat about the stalker situation.
The good news is that the identity of the stalker emerged at the end of November 2019. It was really a bit of an accident. The identification only happened as a result of the stalker became very active when I was moving to the country. The stalker got very excited and wrote more letters than usual. The letters were longer, more detailed and as always, spiteful, menacing and more. But this over confidence meant the stalker left unmistakeable traces which led back to them. With some confirming information from various places, the identity of the stalker was clear. The ridiculous thing was how obvious it all was once the links had been made. And when the identity of the stalker was discovered, the only real power the stalker had (cowardly, predatory anonymity), was lost.
I never once for a moment even remotely thought that the stalker was anyone who personally knew me. And I certainly never thought it was a client, I just don't attract anyone like that.
Sure enough my original intuitions were right. It's just a woman who doesn't know me at all who has her own serious issues (understatement), it has absolutely nothing to do with my happy life. The police are involved now so I don't have to worry anymore. Although I have been uncomfortable unlocking the small Twitter account I've been keeping, so it just stays locked. Since so few people use Twitter it isn't a big issue for me.
The practical effect of all this is I am free to do more MG in 2020. But the catch is this: while I was busy focussing on other things last year, I got busy! And I decided to move to my place in the country to focus on my various other ventures from down there. So MG time is restricted again for this year, but it's for a good reason, not because the stalker has put me off and made me flat, but because it's all happening :-).
So the long and the short is that I am going to have an evolving routine for being in Sydney. A couple of times a month I will have arrangements to be in Sydney with an incall. I will be staying in my old stomping ground in the Eastern Suburbs. I expect it to become an established routine of a couple of extended stays in Sydney every month. I have already done one off visits and trips outside the routine and that's fine, I will just need to be organised to meet special requests :-).
The current schedule will be kept on the front page of the website as usual.
So far as advertising goes, I am sorry if I had a link in one of my posts to a Scarlet Blue ad that is no longer active. That's a bit rude of me! I only ever use Scarlet Blue occasionally so the link has not been active all the time. I am about to put my Gallery page back up on this website though, so you will be able to see whatever images it was I had on the Scarlet Blue directory anyway.
As many of you know from your own experience, I don't advertise in the mainstream much, I just rely on my website. I have found that perfectly suitable for me. Plus, you would not believe how much people pay for advertising, literally $1000s per month, advertising across up to seven or eight directories and websites. I can't bring myself to do that. Not only are most of these escorts _not_ getting enough work no matter how hard they advertise (it's a recession and a flooded market), but they are also working to attract exactly the sort of client (on the whole) I don't want to see – so more power to them :-).
Also, just one further thing on business practices: my rates. Be aware I keep my rates very reasonable for a number of reasons. One reason for instance is that if I have much higher rates I will attract only the clients who can afford those rates. And that is not the right threshold filter. Those people are not necessarily the the right people for me to see.
OK, so now all that is out of the way, here is a January selfie of me lying around in bed one morning in Sydney after a bushfire evacuation from the country the day before.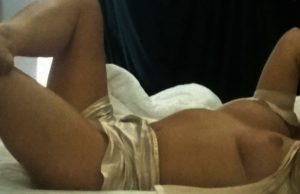 MG xx