Letters from America

Saturday 17 March 2018
I had the fastest drive home from Canberra than I've had in ages. This notwithstanding there was a lot of road work – for which we all slowed down. But as I regularly let myself travel just above the speed limit, alas I am thinking this may be the reason for my fast trip even with roadwork and I am none too proud of it really.
It was a good stay and I collected visuals of another interesting piece of sculpture on an early evening walk near the hotel. On reflection I could have done a better photo:
Here's a better shot from the local Sculpture Walk Guide which I found on the net, together with a spiel about the scuplture's name and significance, and its' creator, all of which is quite appealing: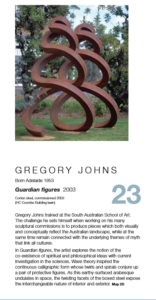 MG xx
reporting on some of this week's adventures.