Letters from America
These letters are my glamorous aunt's posts on her adventures and her life and times as a
♦ mature Sydney escort ♦
Sunday 25 February 2018
In the background of one of my selfies I must have included the part of my loungeroom wall that has a scroll of Chinese characters hanging on it.   I say this because I had the pleasure of meeting a man who had taken the time to get a translation before we met.  He had read the characters from one of my photos.  I also had the pleasure of hearing from him an interpretation of the words on the scroll which was a totally new to me and quite different from any interpretation I had thought of.
The scroll itself I had made about 4 or 5 years ago.  I had found a beautiful Zen saying entitled Subtlety.  I searched about and discovered a Chinese scholar who worked at Macquarie University who was skilled in calligraphy.  He agreed to do the calligraphy.  He also recommended a man who could mount the work in traditional Chinese paper and fabric form.  So the calligraphy was done and the work taken to the scroll maker, and in time I came to own this lovely thing: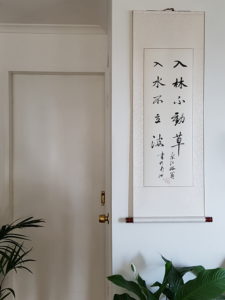 The translation of the Zen saying is as follows (reading down first the column on the right, then down second the column on the left):
Entering the forest, he moves not the grass;
Entering the water, he makes not a ripple.
I had, and still do have, a fairly literal interpretation in mind.  But my new friend had another interpretation, thus:  when you enter the forest you are so small in such a great expansive world inevitably your presence does not create any special disturbance.  And the same with water.  When you merge with the ocean you do not disturb the huge body of water, you become part of it.  You cannot disturb it.  And following on from this my new friend drew another parallel – the difference between the city and the village.  In the city your conduct will not be noticed but in the village everything will be the subject of judgment and comment.  And we both agreed how grateful we were that we lived in the city.  In the village we would not be so free to meet.
Yours MG xx
PS On another subject altogether, I give you this week's before shot: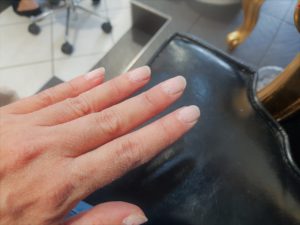 and the (glamorous) after shot: