Letters from America

Sunday 11 February 2018
I did a small road trip down to Dapto last weekend. I stopped at the spectacular Sea Cliff Bridge at Coalcliff – which is on the rail line down to Wollongong. Here is my tourist's picture postcard shot: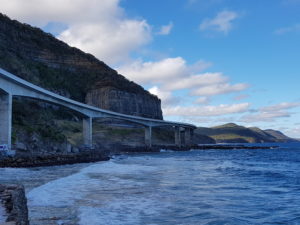 Isn't it beautiful?
And here is a clever piece of graffiti coming straight out of the cliff face: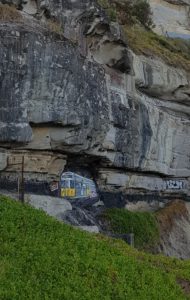 You can see there is a black horizontal seam of coal in the cliff face. The painted train is running along the coal seam railway tracks.
There were loose lumps of coal lying all around the base of the bridge, right down at the water's edge, all from this seam. I have never seen anything like that.
I was in Dapto on business (and no, it was not the Dapto dogs 🙂 lol). My business was to visit the owners of a block next door to my little acre on the edge of the Southern Highlands, who happen to live in Dapto. The long and the short of my discussions with them is that I now have access to an additional half acre and it will be called the Orchard Block – self explanatory name really. Some apple trees and other fruit trees will be planted on this block, under a netted structure to protect against the birds and the possums – not really a greenhouse but like a greenhouse. Watch this space… 🙂 Next week an excavator – man and machine – is coming to make good the bumpy little road on the existing acre, and I will ask the operator to also look at doing a small job levelling part of the Orchard Block for the "greenhouse". It's a time of great anticipation at MG HQ!
And although there has been a bit happening, I have managed to maintain a calm, so I hope that all of you are in fine form too.
Yours ever MG xx