Letters from America
These letters are my glamorous aunt's posts on her adventures and her life and times as a
♦ mature Sydney escort ♦
Sunday 26 November 2017
I had the pleasure of looking at some photos just recently, that one of my excellent ostensible nephews had taken of the three parrots he is responsible for – all of them beautiful ringneck parrots.  In discussion about the birds, a consensus emerged, that I should devote a post to my own beautiful native parrots, the lorikeets.  It would be the right thing to do because they are a lively presence in my daily life, and while they have had a little walk on role in a couple of posts, I have never given them their very own post.
I looked through some of my photos and found way more than I need to illustrate my long and lively relationship with  these boisterous little guys.  So I have included just one snap taken about Christmas three years ago.  This pair were right inside the apartment eating at the table.  I posted the photo to facebook and a Czech girlfriend asked me, first, were they real and second, were they dangerous (they being Australian animals people always have to ask – thank you Bill Bryson).   I told her lorikeets could be dangerous to your sleep if you are trying to sleep in lol.
Fortunately the lorikeets who visit me now are a lot less noisy than they used to be.  There was a period when they would arrive just after sunrise in waves of competing pairs to sit on the balcony and yell at one another.  That noisy yelling period passed though.  And now there are fewer pairs who visit.  Some of the territorial arguments must have been resolved.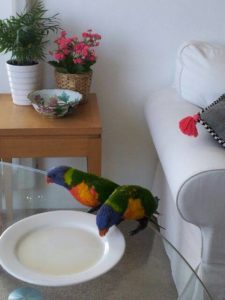 I usually feed them outside, in their own plates, a mixture of warm water and dissolved honey.  I should feed them just once a day but often I will feed them two or three times – they ask so sweetly with little churring sounds.   They are nectar eaters so the spiky little beak is for tearing flowers and stems more than it is for cracking nuts.  When they feed you can see the nectar gathering tongue working hard –  a feathery but hard looking thing that dabs up the honey mixture.
Every season I see a new crop of baby lorikeets.  They always make a huge racket fluffed up, quivering outstretched wings, demanding to be fed beak to beak.
Every season I also see some courtship rituals.  There is a particular dance which involves craning and arching the neck, bobbing rhythmically and slowly snaking around in front of the target female, punctuated by little sneezings.  This year I seemed to attract some courtship attention myself.    I recorded part of the episode, so you can see for yourself.
With warm regards as always
especially to those of my excellent ostensible nephews who are bird fanciers
your glamorous aunt MG xx