Letters from America
These letters are my glamorous aunt's posts on her adventures and her life and times as a
♦ mature Sydney escort ♦
Thursday 23 November 2017
Social media can teach you things.  For instance I have learned from a Twitter account called @bodegacats that there are such things as bodega cats. For the uninitiated, in parts of the US the corner store is known as a bodega.  These corner stores frequently have resident cats.   Hence bodega cats.
These cats seem to be a pretty common feature, a bit like cellar dogs in Australia.  Some might remember a nice little book published a few years back recording a vineyard tour by each dog resident at the vineyard visited, with suitable portraits of the hounds in their domains.  I checked just now and the book was called Wine Dogs and they even have their own website winedogs.com
So the Twitter account posts only pictures of cats in corner stores, doing cat style things lying around in among the shelves, on the register and so on.  It's quite endearing.  And now I have my own offering from a little corner store at the Paddington end of Darlinghurst.
Here is the corner store, somewhat run down: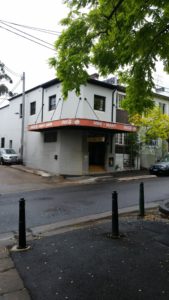 When I crossed the road coming up to the store I glanced up and thought hmmm someone's dropped their jumper on the steps.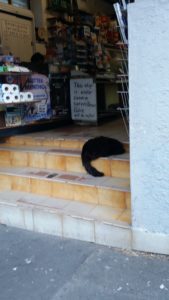 But it wasn't a jumper at all 🙂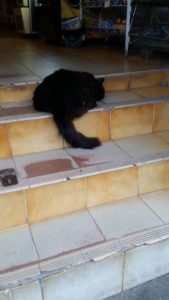 from your glamorous aunt  MG
xx
noticing the small things