Letters from America
Friday 27 October 2017
I did a short excursion to another beautiful beach on the eastern suburbs shore line. This time to Parsley Bay in Vaucluse. There are old family photos showing I was brought here as an infant but I have no recollection. The only thing I recall as a child, is the netted harbour pool at Redleaf Woollahra, a few inlets over from Parsley Bay. It was a very scary thing to be taken, as a very small person, to the inky deep end of the harbour pool netted off from the _sharks_ – one cannot quite forget the horror of it!
Here is Parsley Bay, with its footbridge, looking dazzling when I visited: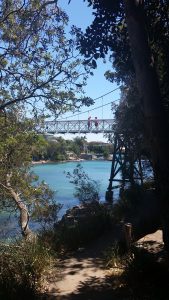 And this image goes some way to showing that lovely emerald green the harbour goes. The shadows have a violet touch when they fall on the green: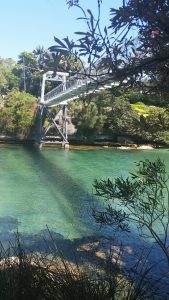 And here was also a very senior looking water dragon basking on the sandstone: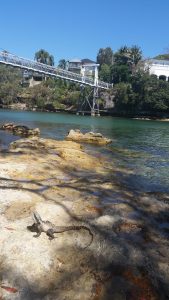 It's a lovely series of sunny photos to post – especially as today is so grey and rainy by contrast.
yours ever,
MG xx