Letters from America
These letters are my glamorous aunt's posts on her adventures and her life and times as a
♦ mature Sydney escort ♦
Friday 21 July 2017
There is a lovely mature escort in Sydney by the name of Karen Thompson who posts her photos in a really nice way, also quite clever I think.    She pairs a black and white image and a colour version of the same image side by side.
That way of pairing the images seems to make me look more closely and for a longer time.  My mind wants to search over the images to see what slight differences there might be between them.  It 's a strong perceptual urge to compare and contrast.  I think that means I look at the image longer and come to see how nice it really is.  Comparing  and contrasting  improve my perception.
When I want to give a gift for a new baby the gift is always the same one.  It's a black and white mobile made from stiff cardboard printed with bold patterns all black and white.   It costs I think about $10 or $15.   Many women report back  that the black and white mobile was the first thing their baby ever focused on.  Apparently its good science that infants see contrasts long before they see anything else, including colour.
So here is a compare and contrast exercise for you which is also  a complimentary reference to Karen Thompson's clever technique.  I made this up yesterday when I was getting my winter gear on.  As I am a little heavier at the moment so it seems the cleavage is more extravagant.  It is possible the infant would have noticed this sort of thing before the contrasting black and white mobile.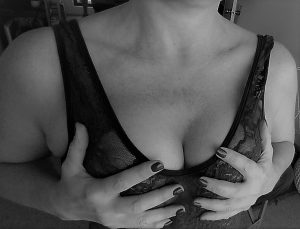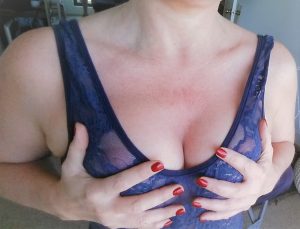 I hope this worked for you 🙂
Your glamorous aunt
MG xx
accompanied by her cleavage
and a theory of aesthetic perception