Letters from America

Tuesday 4 July 2017
It is quite fitting that I am posting this Letter on the fourth of July.
I call these posts "Letters from America" in honour of the series of weekly radio broadcasts "Letter from America" that ended in 2004. In Australia they used to be broadcast on Sunday evening and I loved listening. The author and reader was the Englishman turned American, Alistair Cooke. A lot of you will know the man already, but it won't be old news to some souls 🙂
Each week the letter would explore some current issue or issues of American life and politics. It was an artfully conceived way to share the complexities of American political life with outsiders. It was conversational but it was also serious, it was brilliant.
I have always loved America. It was the first country I ever travelled to, and it was a trip with my beloved grandmother who had spent time after the war in Washington and had made many American friends. The trip we took was to Hawaii where the extended family of one of her American friends were meeting up to celebrate the patriarch's 70th birthday. Later trips I took, generally for business – but not all business, confirmed my fondness.
Even though I thought some Alistair Cooke's approach was from a fairly privileged position and not especially progressive, it was always interesting and intelligent, a rumination and not a lecture, it was a pleasure to be drawn in. His speaking voice had a gentle pitch and the delivery was disarming. And the appearance of privilege was not such a simple thing. He had happily left England where his gifts were acknowledged but where he was also regarded as the son of an ironworker. Any English person would know the suffocating class realities Cooke would have experienced, no matter how brilliant. America would have been freedom from all that.
This program ran weekly from 1946 to 2004. That's 58 years.
The BBC has published online a good number of the audio records of the weekly Letters, if any of you are interested.
This is the BBC link announcing the online publication. It is beautifully written itself and describes Cooke's life and ideas and his work bringing together the US and Britain by his weekly Letter from America: http://www.bbc.com/news/magazine-20121597
Here is a book cover photo of the accomplished man himself.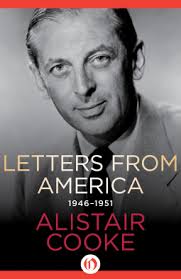 I have put links in here to a couple of the Letters from America, which you may be interested in. Be warned they are 15 minutes long which is likely longer than the average concentration period required in overloaded digital times. I used to listen to the broadcast in Australia on a Sunday night, when I was doing some leisurely cooking, so time wasn't a problem.
This link is to the Letter from America which relates to the key triggers for Nixon's resignation after impeachment. It was broadcast 9 August 1974. http://www.bbc.co.uk/programmes/p00yqn3p
This link is to the Letter from America that relates to Thanksgiving, with a Churchill vignette on the same. It was broadcast on 4 December 1998. http://www.bbc.co.uk/programmes/p00yjnmz
And so it goes.
MG xx