Letters from America
These letters are my glamorous aunt's posts on her adventures and her life and times as a
♦ mature Sydney escort ♦
Thursday 25 May 2017
I have been focused on various adventures this week and I did not make time to shop for the usual provisions.   So the night before last, together with the intrepid team working here on the current project, we dropped down out of the highrise tower to have some Italian food for dinner at a little place on Victoria Street.  Usually I would go to my favourite Japanese dumplings place on Bayswater Road, but not this time for a change.  It was a lovely evening to eat outside, a tiny place with one attentive Italian waiter ( who was  even more than usually Italian :-)).  Everything is made on site: the pasta, the bread, the tiramisu.
I was pretty tired on the way down when I made it to the lift, but I wasn't so so tired I couldn't manage a flash 🙂 (a bit of Helen Mirren there with my leather jacket – though she wears her leather jacket over ball gowns and such :-)):
MG with the Helen Mirren look for a flash in the lift
After dinner we all came back up and snuggled down to watch from the beginning the Netflix series Sense8, starting over with the first series.  The second series has just been released, so good to be reminded where we are up to in the drama and how we got there, before we start the new second series.
This is probably a good moment to confess: I have never owned a television.  I cannot stand television on the whole.  Some exceptions.  I eased myself into Netflix and itunes a few years ago.  And even though I still don't watch often (every few weeks? or once a month?),  I enjoy a lot more film and television than I ever have.   I have even seen Star Wars!  The only other person I know who had the "no Star Wars" status was a girlfriend I worked with, from Paris.  In her case though, I think it was a matter of national cultural pride :-).  For me perhaps I was also being a snob about it.  The Star Wars machine was so commercial, so much mass marketing and merchandising, it just didn't sound like me, or my kind of thing.
But I do love good action film:  swords and explosions 🙂  spies, high crime, suspense.
I also lovey arty clever films, and overt the top camp films.
And I love fine actors and actresses.
I also like really smart erotica.
For goodness sake Sense8 has all of these things!
Sense8 is created by the brilliant creators of The Matrix.  The Wachowskis.
One of my f_a_v_o_u_r_i_t_e scenes in Sense8 series 1,  is this one, involving among other things, the rocket launcher.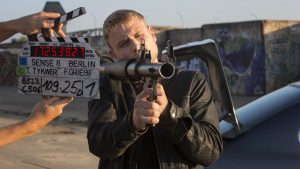 The scene includes the two characters I warm to  the most: the handsome young German gangster Wolfgang, torn up by the burdens of his father's criminal past, and the equally handsome star of Mexican daytime soap, Lito, who is in part wise, high  camp and skilled at working human nature.  Both are in the circle of the mysterious Sense8 – they can sense each other's being across time and space, and slip across into each other's bodies and the critical moments of each other's lives.  Lito in Mexico City,  has somehow become "present" in an intense brutal drama that Wolfgang is suffering in Berlin.
Here is the youtube full clip.
It was all Netflix and warmth 🙂 over here.  All highly recommended.
from your glamorous aunt
MG xx
Sydneyside and loving it