Before the weekend finishes I need to let you know that I now have an email address which you can use.  Text to my phone is best for bookings but if there is something you need to send which is longer and not so urgent 🙂 then email is there.
myglamorousauntmg@gmail.com
(Ed:  I had an earlier post about this.  I inadvertently updated an earlier version of the post so I lost the right one that I had already posted.  I recovered what I could and tried to complete the rest.  Never mind…)
There was a curious green Harbour Bridge this evening.  If anyone knows why it was green, do let me know.
My phone camera could not capture the colour unless the shot was out of focus.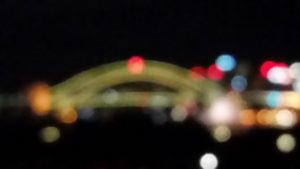 MG xx