Letters from America

Monday 1 May 2017
When 1 May comes around each year I am delighted and surprised every time that I am still living in the light and shiny apartment that I have lived in since 2013. The lease started on 1 May 2013.
This morning about half an hour or so after dawn I took this snap which records the path of the sun to the city and picks out some autumn colour on the London plane trees in Victoria Street.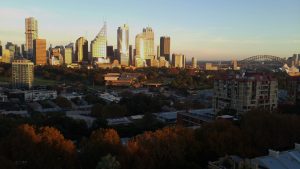 I went to the Blue Mountains for the day and there was more autumn colour for me there. No time to linger at home. These shots are taken in the garden of my very best Japanese friend, from left to right: maple (with camellia), maple, weeping cherry. This place is named Aoyama after a fashionable and leafy district in Tokyo. Aoyama literally means blue mountain in Japanese.
While we sat on the verandah above the garden a very small and brilliant bird came down to feed on the daphne bush already in flower in the shady part of the garden alongside the house. One of my favourite small birds, it seems to be always wearing a little tuxedo. The Eastern Spinebill, here in a photo I borrowed from the internet.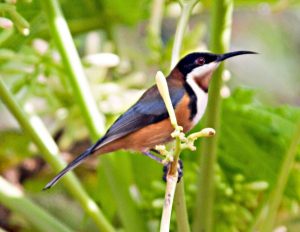 Such a lovely day really.
Hope you are all travelling well, and that you are visited with that wonderful feeling that comes with routine, day to day, in the details, happiness.
MG xx